We're putting a spin on how to teach mindfulness by using Inside Out as our conversation starter! These Inside Out activities will encourage conversation around feelings, provide great resources to support emotional regulating and are perfect for classroom or living room fun!
HINT: Looking to bring Inside Out into the classroom? Read this blog first that shares some great conversation prompts and movie watching activities to boost focus and participation.

Using Inside Out to start talking about Mental Health
Inside Out, is a great way to talk about mental health with your child.
Earlier this week, we shared our top 4 takeaways from the Disney film and some great conversation prompts.
In summation, we're all for using film to teach if it's done right (head over to our blog for some great conversation prompts).
This particular film is a great tool; it can engage students in discussing big transitions, how we deal with feeling sad, how our emotions help create our reality, and ultimately, how to embrace the emotional diversity that exists within us all.
Riley, the protagonist played by (Kaitlyn Dias) moves from Minnesota to San Francisco. The film explores her dealing with the tumult of leaving behind her home, school and friends. At 11-years old, Riley is a great example of the age when children begin to feel less connected to childhood and begin to explore the realms of adolescence. As the movie progresses, Riley's star feeling, Joy (Amy Poehler), begins to lose control as other feelings begin to take more of a role. This is in line with scientific understanding of how we develop our character based on our emotional reactions and how our happiness sees a decline when we reach early adolescence.¹³
Inside Out activities day
The teacher in me felt the need to create a plan to help you maximise the activities!
---
Inside Out character hand print
Create an Inside Out character hand print! Paint each finger a different colour that's represented by each emotion. Then paint the palm the colour that your child's face would be. Place the palm on paper. Once it dries, add the details of the characters and draw your child's face in the middle. What results is your child with their own five emotions. This is great to discuss that we all have emotions and it's our job to decide who's going to be the centre emotion in each moment. It's also a great chance for children to discuss emotions they know, talk about emotions they feel they embody and reason out if this is how they'd like to continue.
Feelings journal
Using the Inside Out character hand print craft as a stepping stone, you can then create a feelings journal. Journaling is an incredibly important part to emotional literacy as it encourages reflection, self awareness, empathy and critical thinking. Your child can decorate the cover of a note book and create a list of emotions at the front that are colour coded. Each day, or perhaps as a substitute to 'time outs', the child can write in their feelings journal how they feel. This begins the development of communication skills, and provides you with incredible insight into how the child is feeling and what thought pattern led them to the actions taken.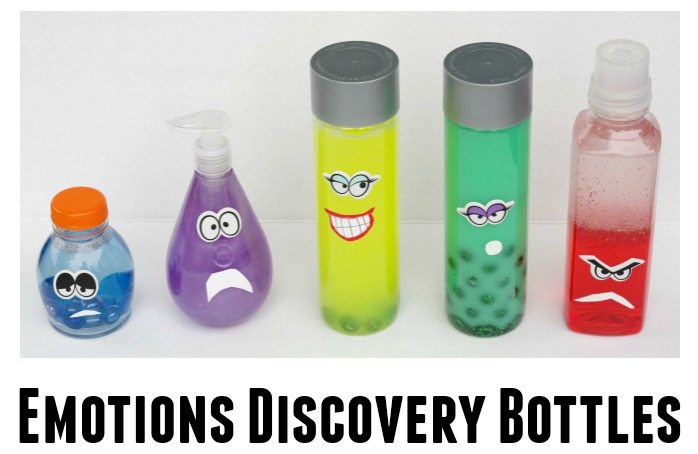 Emotions Discovery Bottles
In preparation to watch the movie, you can introduce a new arts activity, discovery bottles, that will be completed following the film. You can have the children be on the look out for key characteristics of each emotion character. This will help them pay attention and helps them develop reasoning skills. Following the film, the students can decide what ingredients will best suit each emotion. It's also powerful in play as some children may like to use the bottles as 'dolls' and have them dialogue with one another.
This can be extended for older children by having them create their own emotion persona and discovery bottle.
Personality Islands
At the start of the film, Riley had 5 main personality islands: Friendship, Honesty, Goofball, Hockey and Family. So your child can create their own Personality Islands! They can draw it out, make it with homemade plasticine or memorabilia.
Memory Spheres
To finish, students can create their own memory spheres. This a great craft that allows you to reflect on each day this academic year and see that while different emotions arise, they aren't all-consuming and a happy yellow is just around the corner. Have some of these spheres precut and glued so you can have your child choose what colour (feeling) represented the day.
Ultimately, this is a great way to reflect on the day, discuss big emotions, and show gratitude. Alternatively, students can use bar graph and colour in the squares each night.
These are all great Inside Out inspired activities! Use them to support teaching PSHE, Mindfulness and coping skills inside any classroom or living room! If you'd like more Inside Out activities, be sure to check out our blog explaining how to use the film as a launch pad to discuss mental wellbeing.
Pin it!
More Resources for teaching mindfulness
Your Child needs a strong foundation in emotional literacy to really thrive within and beyond the classroom.
Find more emotional literacy resources here:
How to use Inside Out to discuss mental health
How to Teach Emotional Intelligence to Children: 30 Powerful Activities
Eight Powerful things Disney's 'Frozen' can Teach us About Mental Health
8 Ways Working Out Boosts Confidence for Your Teen
Looking for support with your child's emotional wellbeing? Why not learn more about our highly successful confidence and resilience programme.
Emotional Wellbeing Coaches
Based in Ascot, Bettering Youth's emotional wellbeing coaches work one to one with your child. We build programmes that support them with anxiety, body confidence, stress management, communicating big feelings and more!