High quality home tuition provided by experienced classroom teachers
Exceptional Tutors for your family
The child who is new to home education and needs structure and support
The child who has been home educated but is looking to return to school
The child who has been ill or missed a lot of school and needs someone who can flexibly support them
The child who thrives learning through projects that are connected to real world activities
The child who needs extra supports in Maths, English or Science
The child who has been home educated and is now preparing to write GCSEs
Our Home Education Programmes are flexible to fit your family's needs
Blending together project based learning, interest-led activities and leveraging the expertise of top tutors to support your child's journey, our sessions are sure to be memorable and fun!
Helping you with your home schooling needs
KS2
Maths,
English,
Science,
Entrance Exams,
Lifeskills
KS3
Maths,
English
Science,
GCSE prep,
Lifeskills
GCSE
Maths
English
Exam skills
Project Based Learning
Bespoke learning packages tailored for your family and your schedule
How we make everything "easy peasy, lemon squeezy"!
It all begins with a quick five-minute questionnaire. We know you're busy, so we promise this won't take long!
Establishing the goals
Why do you want a tutor for your child?
Fill in some gaps
Prepare for exams
Boost confidence
Understanding the Child
We want to know how they learn and what interests them
Visual learner
Audirtory learner
kineasthetic learner
Connecting the best Tutor
With all of this in mind, we'll connect you with the tutor who can support your child the best.
Have confidence that your child will connect with a tutor who will create a bespoke learning programme
The road to better grades
Let the journey begin! Your child will have their first sessions with an exceptional tutor who will help them to cultivate improved confidence, resilience and yes, better grades!
When you work with us as a parent, we'll guide you through our simple four-step process to creating a bespoke support journey for your child - one that will banish the homework struggle and instill a new love of learning.
Home Education Case Studies
We understand that home education can look different for every family. This is why our experienced classroom teachers are the perfect choice for your child's tutor!
Our passion for project based learning and our belief that each child deserves to be taught in a way that inspires them allows us to tailor each lesson to your child and their learning goals.
Here are just some of incredible learning programmes we've created for our home schooling families:
The M* family were looking for a home tuition programme that would allow both their sons to learn Maths in a way that was engaging, memorable, and tailored to each of them. Plus, we needed to bare in mind that in a few years time they want to write their GCSEs.
We created a year long plan that allowed us to cover the core Keystage 2 curriculum in a way that explored real world applications.
As a celebration of their progress and a final review before summer holidays, the boys engaged in a 6 week project to build their own bakery business plan. It included everything from converting measurements, to geometry, algebra and price structures. PLUS! The added bonus of market research and advertising skills.
Year 6 Maths/Business Programme
The W* family were looking for a unique home education programme that would take into account their daughter's dyscalculia and support her vision for launching a business! 
We created a programme that covered off core concepts required to support her vision of launching a business. Our sessions were short and sharp. At one point, they even included pre-recorded sessions that could be paused and reviewed as many times as necessary.
The W* family rejoiced not only in their daughter's growing appreciation and confidence around numbers, but also her confidence in creating a business plan.
Year 2 English creative Writing
Over the Summer, the P* family were traveling to Spain but wanted a programme that would support their son's english writing.
We created a folder with fun activities and games that the family could play while on holiday that encouraged reading and writing.
This was coupled with weekly online sessions to support creative writing in a more formal setting.
The family are pleased with their son's progress and have already noticed an increased tolerance to writing with detail.
WOULD YOU LIKE TO FIND OUT MORE?
If you're ready to find out more about bringing mindfulness into your whole school,
just pop me a message using the contact form or email me at sarahlynnhodder@betteringyouth.com.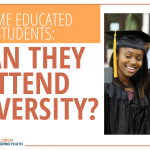 FInd out if home educated children can attend university. We'll also share our top six tips
Read More