Kids climbing the walls? Tired of hearing "I'm bored"? Not sure what to do next?
Don't worry! The Bettering Youth team has you covered with ten exciting child-friendly summer activities that will keep them engaged, focused and learning while having fun!
Share this one with your friends!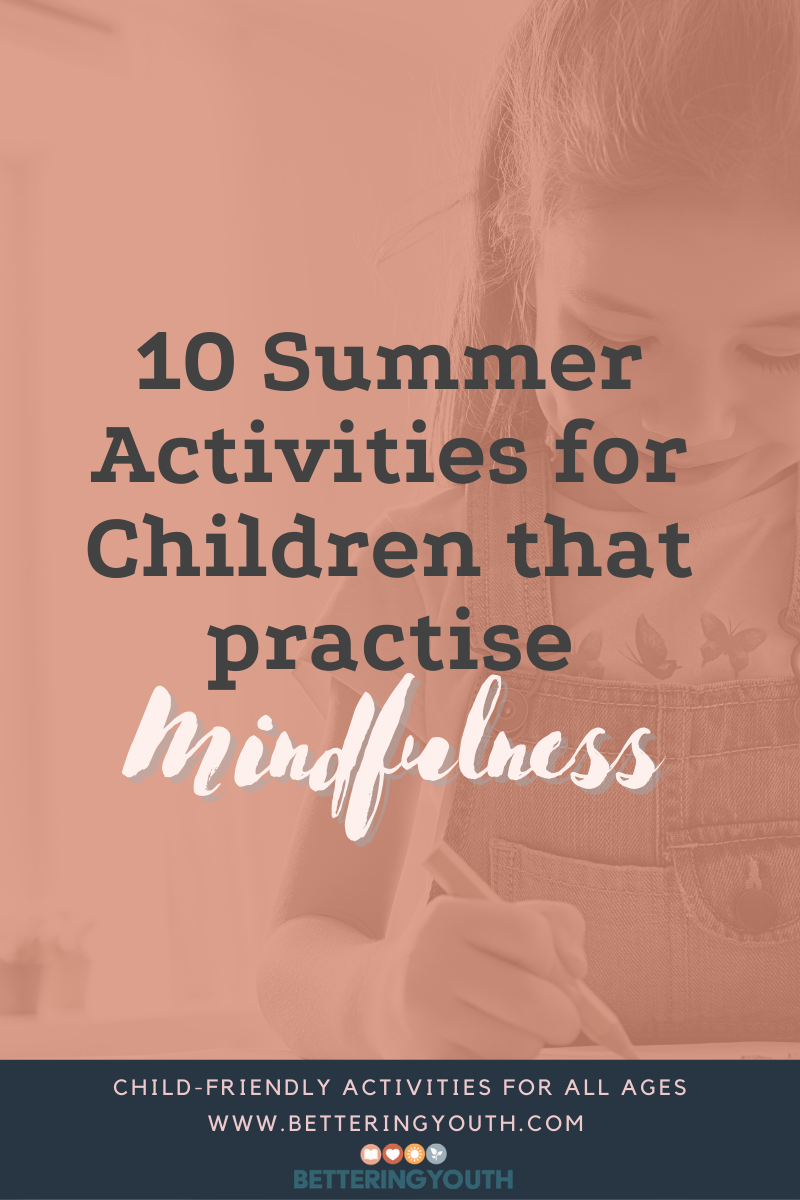 No Supplies Necessary Activities
You're busy. I get you mama. Scroll down to see some of our favourite activities to boost mindfulness that require no supplies or set up.
Cloud study:
Let's encourage some imagination and relaxation. Lie in the grass with your child and begin to point out different formations you spot in the clouds. Play a game to see who can find the most creative. Spend some time watching the clouds shift and change.
Mindfulness: connect clouds to the idea that our minds are like the sky and our thoughts are the ever changing clouds. We can watch our thoughts without getting carried away with them. Practice sitting with eyes closed imagine we're sitting on a rock just observing the clouds go by. If you start to float on a cloud, simply take a step down onto the solid surface and walk back to your rock to continue watching.
Noticing walk:
It's time to harness their inner explorer! Go for a walk and try and spy 10 things you've never paid attention to before – why do you think that is?
Mindfulness: explain that while we see things, our brain only processes a certain amount of information. So when we expand our field of focus, we'll find things we didn't see before. Like when you put down your pencil and then can't find it only moments later.
Slow-fast-slow:
Time to connect to our body. Encourage your child to do a task. While they are completing it, have them do it in slow motion. Then, continue it at super speed. A few minutes later, return to slow motion.
Mindfulness: Practicing mindfulness helps us learn to slow down so we don't feel rushed all of the time. Did you notice a difference while you were going slow versus fast?
Mindfulness Activities that can fill an afternoon
Free lemonade stand:
When life gives you lemons… The act of doing something for others can have a profound impact on our own sense of joy. Our children are often caught up in their own little bubble that learning about empathy and kindness takes practice. Creating a free lemonade stand helps a child build resourcefulness, communication skills, effective problem solving, and empathy.
Mindfulness: Highlight generosity, compassion and kindness as being qualities that provide a joyful and happy life.
Mindful reading:
Do you still read with your child? Typically between the ages of 7 and 11 children begin to crave independence. This shift could mean they no longer want you to read to them. Rather than give up completely, it's important to ensure your child is still getting the benefit of creating a connection with the words and building the story out in their mind. So instead of leaving them to it, exclaim that you're so excited for this moment because really, you're the one who loves to be read to. And close your eyes while your child reads. This allows them to feel independent and less pressure.
Mindfulness: It's easier to talk and reflect on others emotions. So ask what do you think she's thinking, why do you think he felt that way, have you ever felt this way? It can be a powerful insight into your child's mind and life.
Make a scrapbook:
As we grow we're often faced with many conflicting ideas about who we are and who we're meant to be. Looking through old photos and exchanging stories about a variety of people can help children connect to the world around them better.
Mindfulness: this can spark great conversations about memories and personality. Link this activity to watching the movie Inside Out and talk about core memories and how they can shape us.
Make a mind jar
A mind jar is an arts and crafts project that's easy and will continue to deliver long after the glue gun is put away. This art is all about decorating a clear jar and filling it with water and sparkles (click here for the how to).
Mindfulness: Learning how to emotionally regulate is a powerful skill. One such way is to bring our rushing thoughts into a calmer state. This mind jar is a great physical manifestation of what happens when we get into an excited state and how we can slow the thoughts and ground them.
Make a Mindfulness Glitter Jar
Learn to use a mindfulness glitter jar in times of worry to slow your mind.
Colour or paint
Colouring and Painting are fun ways to zone into a task. Hyperfocusing is a great way to practice concentration and reduce anxiety.
Mindfulness: it helps to refocus the mind on one task and gives your brain a rest from thinking.
Dance Party!
I've said it before, but I'll say it again: I looooove a dance party! It's an incredible way to reconnect to the body, feel our emotions and let go of energy. When we move we're practicing self expression and building confidence.
Mindfulness: You can challenge them to dance different emotions to show how they make you feel differently.
Click to download this month's top 27 confidence boosting songs!
Mindful baking
A great way to blend together learning and fun is in the kitchen! Baking is a great way to encompass all of the senses, learn math and experience chemistry at work.
Mindfulness: it's all about zoning in to our senses. How does the dough feel in between your fingers? How does the smell change as it's being cooked? What does it taste like?
Mindfulness Activities Conclusion
We hope that you enjoyed our top 10 mindfulness activities for teens that are perfect for the summer.
Mindfulness coaching is something that takes consistency but the benefits are great! Some of our top favourite benefits are:
increased productivity
more empathy and compassion
improved marks and school effort
boosted creativity!
If your child would do well with 1-1 support in boosting their emotional literacy and dealing with big feelings like anxiety, depression and anger, then get in touch.
1-1 Emotional Wellbeing Coaching for Young Teens
Our bespoke programmes are created to support your child through their emotional journey.
We blend mindfulness coaching, Cognitive Behaviour Therapy, Confidence activities and more to help your child better manage their emotions.
Pin It!
Our Mindfullness Coach
Sarahlynn is the head tutor and creator of the Bettering Youth Emotional Wellbeing Coaching programmes. Pulling from her extensive background in child mental health research, her experience as a mindfulness coach, and her training as a cognitive behaviour therapist, Sarahlynn advocates for teaching mindfulness to children to boost their potential above and beyond the classroom.
More Mindfulness Resources:
How to teach Mindfulness with Inside Out
5 benefits of mindfulness that will boost marks
Mindfulness and the 10 ways it improves your lifeHow to Teach Emotional Intelligence to Children: 30 Powerful Activities