Strong readers are able to images of what they are reading. Today's post is number 6 of the Comprehension Mini Series. In order for young readers to feel confident with visualising, they will need to be confident with the other comprehension techniques.
Feel free to navigate to the other techniques. Once your child is confident, come back to this blog to develop one of the more important skills.
Visualising
Comprehension monitoring
Often forgotten, the power of visualising a text is a crucial comprehension strategy. It is the skill, I believe, that enables a child to truly develop the love for literature as it unlocks the magic of being engulfed in a story.
There are a few different ways we can encourage students to develop these 'mind movies'. I will share my favourite below. First, I thought it might be worth mentioning how this skill of visualising can support our children above and beyond the classroom.
Benefits of visualisation for Students:
Visualisation has been used to boost performance for more than 30 years in sports psychology.
It can bring classroom activities to life and make them more memorable
Visualising allows us to combines left- and right-brain functions (language and imagination)
It can help students to develop their ability to create different sensory images
Spices up how we teach!

It can help students to learn to relax making them more receptive.
As you can see, the benefits of feeling confident in visualising extend beyond the classroom! Therefore, let us jump into some methods that can allow young readers to feel confident with visualising.
Teaching Students how to Visualise what they are Reading
In order to cultivate the skill of visualisation, it is imperative that we spend time modelling the behaviour.
One of my favourite methods to model visualisation is to read a picture book aloud, without showing the photos. As I am reading, I will pause after a good description and comment about how the words used have helped me to create an image in my mind. I would talk about the author's word choice, and the use of emotive language. Following the short story, I would encourage students to draw what they "saw" in their mind. Depending on the age of the students, I might follow this up with a short student presentation to share what words and phrases from the text evoked the image drawn. This would be a great way to connect the words to the images and check for understanding.
A second powerful way to model visualising is to bring the students through a guided visualisation. The script can be simple and straight forward like the one we use:
This guided practise supports students' in practicing their visualisation techniques.
An important thing to note when introducing this into the classroom is that some students might feel stressed. This activity must be preceded by an explanation that this is a practise. That perhaps not everyone will be able to visualise clearly yet. That this is a skill we are learning to develop. Once the expectations are set, then the activity should be fun and stress-free!
Bring Visualisation into Other Key Subjects
Of course, there are ways for which we can embed visualising into other subjects. The key, as with anything, is clear instruction and consistent practise.
Maths:
Make use of visual aids to support the development of theoretical concepts such as using counters and beads to explore addition and subtraction.
Science:
Using hands on experiments and visual aids, students can better understand concepts. For instance, looking at a real flower when learning about plant life cycles or working with materials to increase understanding of energy and light production.
History:
Creating a timeline or using a picture walk to explore the different eras.
Geography:
Going outside and working with the earth to differentiate between the different layers of soil.
Reading:
Participating in guided visualisation
Making visual art representations.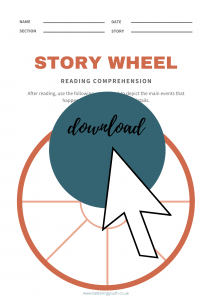 Have Fun Teaching Your Child about Visualisation
We hope this blog helps you to support your young readers to feel confident with visualising! It is so an incredibly powerful skill that no only unlocks the magical world of literature, but supports the deepening of understanding with other, less concrete, concepts.
As you can see, there are a lot of resources here. So start slow, and test the waters. Different students are likely to prefer different methods so don't be afraid to explore a variety!
Introducing Bettering Youth's Comprehension Club
Have you watched a replay of the Free Trial we presented to a 'full house' on December 15th yet? It's a must see! Not only do we discuss how the 6 week Comprehension Club will run in January, but it was a great sneak peek into the powerful techniques your child will learn and develop.
Our Comprehension Club is all about making comprehension relevant to our children. It's about teaching them the foundational skills required to boost comprehension, but also, to demonstrate how it is a skill we use in our daily lives.
Now, The Bettering Youth Comprehension Club is open for registration! We are accepting students in years 5 and year 6 (9-12 years old). The sessions will be 30 minutes long, once a week. And of course, they will be recorded so that your child can access them again in the future.
Should you have any questions or would like to discuss your child's current areas needing support please feel free to get in touch. Sarahlynn and the Bettering Youth team are here to support 🙂
Click here for more information about the Bettering Youth Comprehension Club.