Welcome to Post #4 of the Comprehension: How to Support Readers Mini Series. Today we will explore how to generate questions while reading to boost comprehension.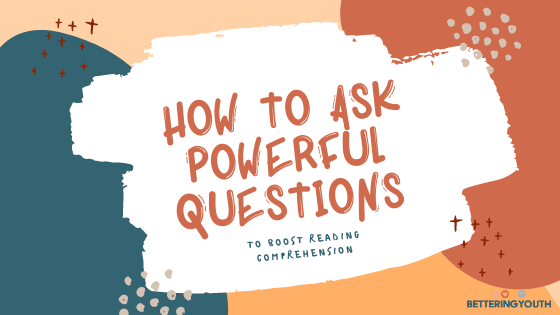 But first: Does your child need support with "reading between the lines"? Find out more about our Comprehension Club
Comprehension, as we know, is the way in which we engage with, understand and interact with input. In this case, we are discussing literary input. Therefore the questions which we will encourage readers to develop will help them to deepen their understanding of what they are reading.
The 7 foundational techniques to boost comprehension:
Generating and asking questions
Summarising
Visualising
Comprehension monitoring
How to Generate Questions while Reading
A great way to monitor if a child understands what they are reading is if they can generate questions. This form of active reading ensures that students are engaging with the text and thinking about the contents. As such, this comprehension technique can also lead to deeper understanding and even improve memory.
Active reading: allows a reader to engage with the text in a way that ensures they are thinking about what they are reading and not simply skimming the words. It can include a range of techniques, most commonly generating questions and annotating pieces.
This is a comprehension skill many struggling readers do not engage with. As highlighted in the previous blog about supporting struggling readers, many will resist these reading techniques as they believe it will slow them down and single them out. Therefore practising this skill as a whole class is important.
Questioning can either be in the form of retrieval or inferential and can cover a range of topics from event-based to understanding the author's choice of words.
Retrieval questions ask the reader to find answers explicitly stated in the text. These questions assess a student's ability to find answers that are hidden amongst other details that may be similar. The latter form of questioning is inferential. This form of questioning requires students to dig deeper to find intrinsic meaning. This is often referred to as "reading between the lines". Readers will have to lean on their previously learned comprehension skills to support their answers.
The Different Questions Readers can ask
In order to encourage students to generate questions while reading to boost comprehension, they must first understand the different types of questions they can ask.
Self-questioning:

Have I seen this before?
What does this make me think of?
Would I have written it this way?

Questioning the text:

What are the key elements of this text?
This is written in bold. What is the purpose of bolded writing?
Why was this word in capital letters?

Questioning the author:

Why did the author use the word house vs home? How did the word choice change the image in my mind?
The chapter ended on a cliffhanger. What feeling was the author trying to create?
Teaching Readers to Generate Questions While Reading
There are a few tactics students can use generating questions while reading to boost comprehension.
One of the more commonly used is highlighting and annotating.
Prior to reading, refer back to the K-W-L chart students made about the text. This is a great starting point for question generating as it encourages readers to ask questions they'd like to uncover.
During a read aloud, pause at key writing elements and ask if students have come across them before. What could they mean? This is a great opportunity to review the writing features that fiction and non-fiction works use to convey meaning.
Pick out key literary devices and model questioning the author's use of words.
Click to download the questions bookmark
Have fun Teaching Your Child About Generating Powerful Questions while Reading
Being a good questioner is not just a skill for boosting comprehension. Supporting children's ability to think critically and ask good questions is a skill that will serve them above and beyond the classroom.
We hope that blog #4 of the Comprehension mini-series has supported your journey in developing a strong, critically-thinking, active reader. Our hope is that this series sparks ideas in how you can support your child to generate questions while reading to boost comprehension. The idea that comprehension is simply "read a text and answer questions" has got to go. Comprehension is everywhere and our young readers must feel confident with these skills in and beyond the classroom. They will only get there with consistency though.
Introducing the Comprehension Club
Whether this is your first Bettering Youth blog, or you've been an avid reader since the beginning, I have no doubt that our love for reading is apparent.
We don't just want to give children a formulaic approach that will serve them come exam time though. We want to empower children to use comprehension skills to interact with the world at large in a confident and critically thinking manner.
Our Comprehension Club aims to achieve just that!
We will not be looking at one book for the 6 weeks we are together.
No, instead we will look at a variety of media types to demonstrate that comprehension is part of our every day life! Our club will make comprehension, relevant to our young students. Provide them with the tools they need to grow in confidence. And yes, support their development of a critical eye that encourages them to ask questions about the world around them – including the social media they interact with.
If your child struggles to read betwen the lines, does not have that 'movie' playing in their minds eye when they read, or can't understand why they must "sit and answer questions", this is the club for them!
Not sure if it's for your child yet? No problem! Ask to see the Free Trial hosted on December 15th so you can "try before you buy"
Speaking of buying, half of the proceeds for this club will be donated to Bettering Youth's charity of choice for the term, Young Minds UK.