October is celebrated as Black History Month in the UK. This celebration encourages all citizens to take time to become educated on the history and the impact of African American peoples within this country.
Perhaps unwittingly, October 10th is also World Mental Health day. I believe the coincidence should not be overlooked as the two are incredibly intertwined.
In February of 1926, Carter G Woodson established African Caribbean celebrations in America. During one of his visits to the US in the 1970s, Ghanaian-born Akyaaba Addai Sebo, a special projects officer at the Greater London Council, founded the UK's version of Black History Month in 1987.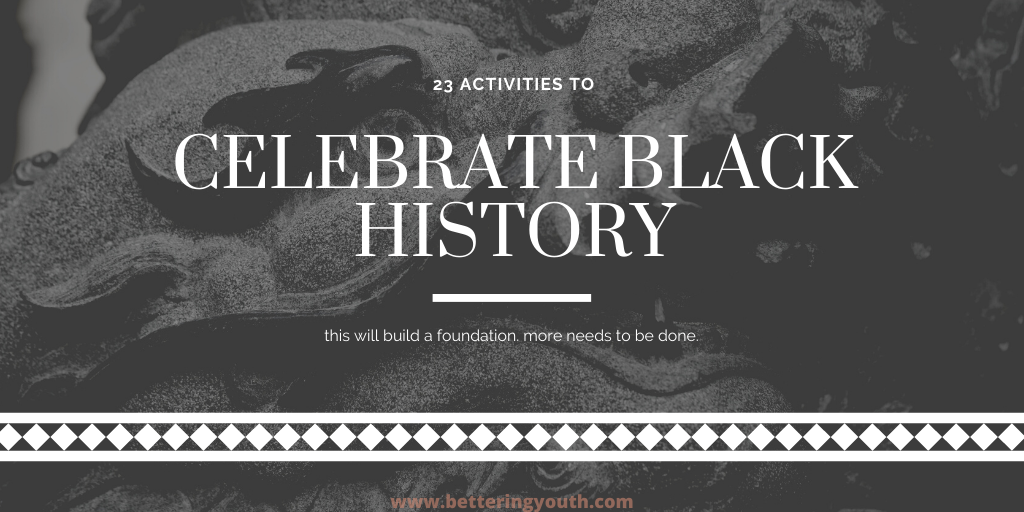 Why does the UK celebrate Black History Month in October?
Unlike the North American celebration held in February, the United Kingdom celebrates Black History month in October. There are two reasons for this.
Traditionally, October is when African chiefs and leaders gather to settle their differences, so Akyaaba chose this month to reconnect with African roots.
Additionally, many thought that since it was the beginning of the new academic year, October would give Black children a sense of pride and identity. (Bristol)
This month however, I hope that we can take it beyond October. It's more important than ever that we take responsibility for educating children on the complex and diverse beauty of our world – and not just in specific months.
2020 has held up a mirror that shows us the shadows of our current way of life and calls on each of us to do better.
Black History and the UK Curriculum
To this day, no school is mandated to teach a more diversified history.
The Black Curriculum is an organisation founded by Lavinya Stennett. She was frustrated by the limited amount of Black history she was taught, and how most of it was discussing events in America – not in the UK.
This curriculum now runs programmes for children and young people all over the uk. It includes learning opportunities like poetry and drama to help children get to grips with Black history.
London specific events and activities to celebrate Black History Month
Throughout October, Black History Month is being celebrated with over 6,000 activities and events held across the UK. It is easy to find ways to connect, listen and learn about the profound impact the black community has held in shaping the United Kingdom's past and present.
The Museum of London is hosting many talks and events that will help to provide a perspective for adults and older teens.
Black History Month UK is a website that hosts school resources, news articles, and great links that can be used to research impactful individuals.
6 Classroom activities to celebrate Black culture
Currently, Black History is not a mandatory part of the English Curriculum. While some schools have elected to touch upon it within History classes, it is often done quickly. The main theme taught within the classroom is slavery.
"You may think you're teaching us, (…) but all you're doing is telling us that we were nothing but slaves. That's not fair because black history is way bigger than slave trade." – Abraham
Below I have included 6 activities that can provide a great starting point for educating children of the profound impact Black lives have played (and will continue to play) in shaping our past, present and future.
As you can see, the focus here is not on the Slave Trade. Instead, this October (and every day), let's use this as a spring board to celebrate and recognise the incredible impact this community has had on present day England.
6 documentaries to discuss Black History
Let me take this opportunity to suggest the powerful tool video can be within an education setting. Film can help some students understand or make sense of social interactions and can develop inferencing, deduction and critical thinking skills. Therefore, I suggest the following 6 documentaries and shows to use as the basis of conversation within the classroom.
African Americans: Many Rivers to Cross
Freedom Riders (Show #8)
A History Of Black Achievement In America
Slavery By Another Name
Eyes on The Prize: America's Civil Rights Years 1954-1965
Ultimate Black History Month Documentary DVD Collection: The Black List 1 & 2 / Black America Since MLK – And Still I Rise / Yes We Can – The Barack Obama Story / When the Checks Stop Coming In
You are responsible for helping to shape our tomorrow. Let us take this responsibility in stride and ensure that these resources (and ALL Diversification resources) are available, celebrated and discussed in every room.
PIN IT FOR LATER